About College
About Manoj Jain Memorial College Satna-
Manoj Jain Memorial College has come up with a view to impart quality education in 2014-15. The Institution has inherited the values, justice and human brotherhood.
How To Reach
Manoj Jain Memorial College is located at Sherganj Satna a well known station of Central Railway which is about 180 km away from Allahabad & Jabalpur. The nearest Airport is Khajuraho, which is about 125 km and Jabalpur 180 km by road.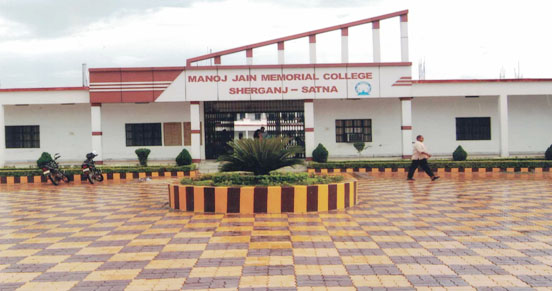 Our Vision
The institution has clear vision. The management has good experience with progressive and futuristic outlook. The Management is assisted by the nationally renowned personalities from academics, industries and R&D centers. Renowned and experienced faculty members shall act as foster guardians of the students. The institution have state of art student supporting facilities like computing facilities, library, hostels, transport, canteen etc. We are committed to create future professionals fully equipped with high skills and attitude embodying them with high moral values, sound intellectual powers, refined analytical decision making skills. These institutions are bound to make rapid strides in every field with the clear vision in the years to come.
Our Mission
Our Mission to develop skilled educated and dedicated man power in the required area, it is also committed to impart career oriented and quality education. It also believes in making better human being by including moral and ethical values in their personalities.